CMW is an ambitious and unusual program that provides free after-school education and performance programs that build meaningful long-term relationships between professional musicians, children, and families in urban neighborhoods of Providence, Rhode Island. Click here for more information about CMW's demographics. To gain a clearer understanding of the nature of CMW's annual activities, click here to visit CMW's blog, Flickr account, and YouTube channel.
CMW's programming encompasses a broad range of activities in the West End of Providence and Rhode Island, including lessons, performances, workshops, and leadership skill-building. The program's unique model is built around musicians in residence in an urban neighborhood, and the program has received national attention for creating a new vision of a classical music career that combines artistry and service. CMW holds and shares a distinctive definition of musicianship that combines musical proficiency, personal commitment, and an understanding of music as a cultural force that can both express and help to create a more humane world.
The evaluation was designed to look closely at only one piece of CMW's activities: the effect of the program on the inner lives of the students involved. When students become highly engaged in the program, how do these activities translate to a different understanding of their own potential?
The evaluation's overarching goal was to create a culture of learning, self-assessment, and continuous growth that would far outlast the process of the evaluation itself.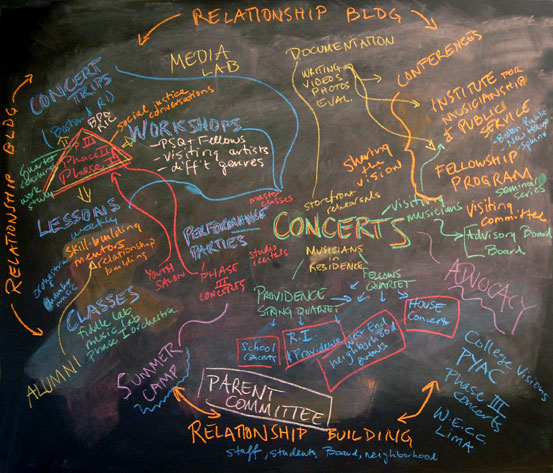 click here to listen to Chloe Kline,
Community MusicWorks Education Director,
talk about incorporating evaluation tactics into programming