"Education, Art, and Freedom: An Exploration of Philosophy and Pedagogy"
Sponsored by Community MusicWorks
May 7 & 8, 2004
Now available: A publication by Community MusicWorks featuring the transcript of the remarks made by Deborah Meier and Ted Sizer
at the Public Forum on May 7, with an introduction by Sebastian Ruth, Executive-Artistic Director of Community MusicWorks.
Download Sebastian Ruth's transcript introduction by clicking here.
Download "Freedom" (a poem collaboratively composed by CMW's Phase II students) by clicking here.
Order your free copy today by calling (401) 861-5650 or sending an email to info@communitymusicworks.org.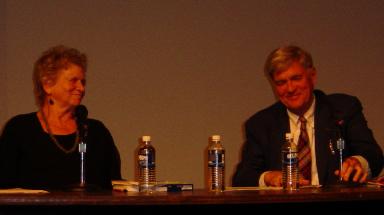 Deborah Meier and Ted Sizer address the role that the arts can play in bringing about freedom from oppression
at Friday's public forum held at the Rhode Island School of Design Auditorium.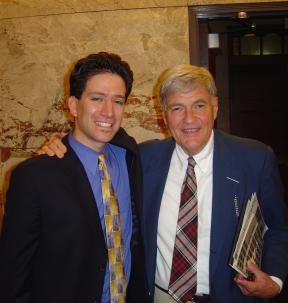 Sebastian Ruth with his mentor and Community MusicWorks advisor Ted Sizer.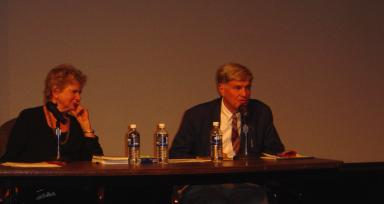 Deborah Meier and Ted Sizer respond to questions from the audience. The forum concluded
with the screening of the documentary Exclusions & Awakenings: The Life of Maxine Greene.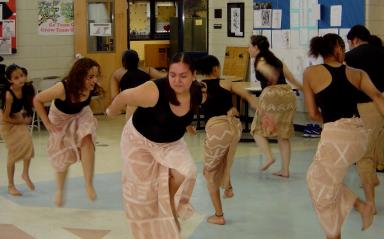 Members of Human Creativity at Central Falls High School showcased their talents during
the workshop for educators led by Deborah Meier at The Met School on Saturday morning.
The drummers and dancers that make up Human Creativity are led by Deanna Camputaro.
Click here for the project's website
About Us | Programs | Calendar | Media | Profiles | Get Involved | Contact Us | Home