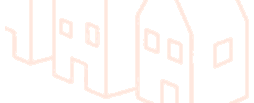 Quick Links


Community, Demographics & Quick Facts


Fellowship Program

Board of Directors


Advisory Council

Staff

Providence Youth Arts Collaborative

Imagining Art + Social Change Conference

Mission

To create a cohesive urban community through music education and performance that transforms the lives of children, families, and musicians. Our model is centered around the teaching, mentoring, program design, and performance activities of our musicians-in-residence, the Community MusicWorks Players.

Our Story

Founded in 1997, Community MusicWorks (CMW) is a nationally recognized community-based organization that uses music education and performance as a vehicle to build lasting and meaningful relationships between children, families, and professional musicians in urban neighborhoods of Providence, RI.
Founded by Sebastian Ruth with start-up funding from the Swearer Center for Public Service at Brown University, the program began modestly in 1997 with 15 violin students. Today, CMW is a thriving organization with 12 professional resident musicians and more than 100 neighborhood children participating free of charge—some for as long as 10 years—regardless of talent or ability.
CMW was built around the permanent residency of the Providence String Quartet, which was founded in 2001. Participants in CMW's two-year Fellowship Program for young professional musicians comprise the Fellows String Quartet. Fellows also perform in collaboration with the members of the Providence String Quartet and CMW's other resident musicians as the Community MusicWorks Players. All resident musicians teach instrument lessons, mentor students, perform locally, and organize community-building and educational events.
Our students, who live in Providence's South Side neighborhoods, participate in after-school programming and receive instruments free of charge. Students have weekly lessons, participate in a weekly community day that includes studio class and ensemble playing, attend educational workshops led by guest artists, and perform several times a year. Teens are eligible for a leadership development group called Phase II, in which they engage in discussions about social justice, mentor younger students, and work together to create relevant musical events in their community. All students are also offered weekly enrichment classes, including Media Lab, Fiddle Lab, and Music Lab.
Our student retention rate is close to 90 percent annually, with some children participating for as many as 10 years. There is a waiting list at all times, and special efforts are made to include waiting list families in our free events. In 2006, in response to interest from like-minded professional musicians nationwide, and in order to reduce the waiting list, CMW added its two-year Fellowship Program which served to double student enrollment. Since then, providing resources for musicians seeking to create careers that combine artistic and civic goals has become a major component of our work. A three-year investment from The Andrew W. Mellon Foundation in 2008 led to the creation of CMW's bi-annual Institute for Musicianship and Public Service, an opportunity for musicians to gather in Providence to draw inspiration from CMW and develop strategies to apply to their own community-based work elsewhere.
CMW has been featured in The New Yorker as a "revolutionary organization in which the distinction between performing and teaching disappears." The program has also received numerous awards, including a CMAcclaim Award from Chamber Music America for "significant and lasting impact on their community" and the Jabez Gorham Award from the Arts & Business Council of Rhode Island for "unwavering commitment to excellence, significant impact on the community, and success in organizational development."
We receive strong ongoing support from our local community, and from a growing community of fans across the country. Our students' enthusiasm for learning about music continually reinvigorates the many artists and educators who visit us each season, including members of our Advisory Council, a group dedicated to advancing and promoting CMW's artistic and organizational goals.
CMW is a founding member of the Providence Youth Arts Collaborative, a partnership of six non-profit community-based arts organizations using arts education as a strategy to empower the youth of the Providence and greater Rhode Island.

Our History
1997-1998
Budget: $15,000 (public service fellowship grant)
15 students enrolled
Sebastian Ruth graduates from Brown University and begins providing free violin lessons at the West End Community Center
Members of the Nahanni String Quartet (including Sebastian Ruth and Minna Choi) perform around Providence to generate interest in the idea of Community MusicWorks, initially named the South Providence Community Music Program
1998-1999
Budget: $12,000
20 students enrolled
Minna Choi, also a Brown University graduate, joins Sebastian Ruth in teaching violin lessons
First Performance Party, held at the West Broadway Neighborhood Association office
Several Musical Workshops held at Providence City Arts on Broad Street
Sebastian Ruth continues to research and plan for the development of a professional string quartet residency
1999-2000
Budget: $42,000
25 students enrolled
Heath Marlow (cello) and Colleen Jennings (violin) commute from Boston to teach lessons one day a week and perform occasionally with Sebastian Ruth and Minna Choi as an informal string quartet
2000-2001
Budget: $65,000
36 students enrolled
String quartet residency created, musicians paid on an hourly basis
Community MusicWorks co-sponsors an arts education symposium led by Maxine Greene
Ben Rous replaces Colleen Jennings, commuting once a week from Boston
Community MusicWorks featured in The Christian Science Monitor
2001-2002
Budget: $110,000
51 students enrolled
Salaried positions for a string quartet are created
Jesse Holstein (violin) and Sara Stalnaker (cello) move to Providence, replacing Heath Marlow and Ben Rous
Westminster Street storefront office acquired
Phase II teen group added to programming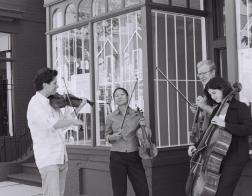 2002-2003
Budget: $187,000
60 students enrolled
Community MusicWorks receives first grant from the National Endowment for the Arts
VISTA volunteer improves organization's infrastructure
2003-2004
Budget: $243,000
65 students enrolled
Rehearsal studio added to storefront office
Anne Simmons hired as Administrative Assistant
Heath Marlow returns as Development Consultant
Community MusicWorks presents Education, Art, and Freedom, a two-day symposium featuring Theodore Sizer and Deborah Meier
Community MusicWorks featured in The Boston Globe Sunday Magazine





2004-2005
Budget: $284,000
65 students enrolled, waiting list reaches 100
Development Consultant position increased to fulltime Managing Director
Administrative Assistant position is increased to Program & Administrative Coordinator
Jessie Montgomery replaces Minna Choi in the Providence String Quartet

Community MusicWorks is the cover story in Chamber Music Magazine
2005-2006
Budget: $327,000
65 students enrolled, 90% retention rate
Community MusicWorks selected as one of fifty premier after-school arts programs in nation in by the President's Committee on the Arts and the Humanities
Phase II students begin rehearsing chamber music twice a month on Friday evenings
Community MusicWorks receives a Champion in Action award from Citizens Bank and NBC 10
Chamber Music America awards Community MusicWorks a three-year grant for Providence String Quartet residency activities
2006-2007 Tenth Season
Budget: $484,000
100 students enrolled, increase due to addition of Fellowship Program
Chloe Kline (viola) and Laura Thomas-Merino (cello) participate in pilot year of Fellowship Program
Minna Choi returns as Fellowship Program Director, also teaching violin
Liz Cox replaces Anne Simmons as Program & Administrative Coordinator
The Surdna Foundation awards Community MusicWorks a three-year grant for programming for teens
Community MusicWorks lauded as a "revolutionary organization" in The New Yorker in an essay by Alex Ross on the state of music education in America


2007-2008
Budget: $591,000
115 students enrolled
Rachel Panitch and Arlyn Valencia join Chloe and Laura in the Fellowship Program
Community MusicWorks rents out the third floor above the storefront office for added meeting space and instrument storage
Community MusicWorks presents Imagining Art + Social Change with the Providence Youth Arts Collaborative
The Community MusicWorks Players is formed and each concert program throughout the season features a work by a local composer
Community MusicWorks receives a planning grant from the Andrew W. Mellon Foundation to develop strategies for sharing our model
Community MusicWorks featured in RI Monthly
Drs. Dennie Palmer Wolf, Shirley Brice Heath, and Eileen Landay work together to develop a program evaluation which is successfully piloted during the spring semester

2008-2009
Budget: $632,000
110 students enrolled
Jason Amos and Adrienne Taylor join Arlyn and Rachel in the Fellowship Program
Chloe Kline hired as the Writing Coordinator
Jori Ketten hired as the Evaluation & Communications Consultant
CMW holds first Institute for Musicianship and Public Service
CMW receives three-year $300,000 grant from The Andrew W. Mellon Foundation for sharing our model

CMW commissions
Kompa Variationsby Daniel Bernard Roumain, Earned by Anthony Green,
and Anthem by Jessie Montgomery
Dr. Dennie Palmer Wolf completes 18-month participatory program evaluation

2009-2010
Budget: $670,000
110 students enrolled
Aaron and Carole join Jason and Adrienne in the Fellowship Program
Media Lab is successfully piloted
Participatory program evaluation website is launched
First volume of CMW Compendium published
5-year strategic plan (2010-2015) is approved
PYAC presents first Youth Arts Day